Some of these links are affiliate links
For the first time ever, we are solely using "all in one" reusable cloth nappies.
As far as cloth nappies go, the all-in-one style is perfect for any parents and carers that are apprehensive about a reusable nappy journey. Essentially, all-in-one's have the "terry nappy", an "additional booster liner" and the "waterproof outer pant" all together in one piece -which saves faffing.
They are so easy to use and the only downside that I can share so far, is that traditionally, you could probably get away with purchasing less "waterproof outer pants" than "inner terry pants" -but due to the nature of them all needing to be washed together, you'll be paying for an equal amount.
This also means the lifespan will be reduced slightly (as the outer will need to be washed so frequently) and they just may not last to be passed down from sibling to sibling in the same way that traditional separate terry nappies can.
It took a while to get our heads around the fact that newborn cloth nappies could go straight into the washing machine!
We use eco-friendly washing products and wash at a low temperature but because we needed peace of mind that the nappies would be coming out of each wash spotless, we use an additional product -a nappy sanitiser" in the wash for the safe, effective cleansing of our reusable nappies at low temperatures.
Bio-D's "Nappy Fresh" which we buy online from a Black-owned stockist is a unique powder that is antibacterial and germicidal for thorough cleansing; it's also hypoallergenic, non-irritant, and fragrance-free so it won't aggravate sensitive skin.
These super soft terry GroVia cloth wipes are soft enough to be used on your baby's face as well as their bottoms.
Essentially, large terry cloth squares, these washable wipes are a great way to save money and are kinder to the environment. To use, we either run them under warm water if we're at home or dampen them with a little spray jar of water if we're out (the 50ml bottle tucks away neatly in our baby bag and we refresh the water daily).
Once used, we simply pop them in the wash with our reusable nappies. We also have found that these wipes are the perfect size for a "tri-fold" nappy booster liner in the newborn stages, and if I've forgotten my breast pads when I'm out and feel myself filling up, I slip a pair in my bra too.
Despite using reusable nappies and wipes, there are often times when we still require nappy bags -such as with our 2-year-old who throughout the training period.
We've made the switch from our usual plastic-based nappy bags to biodegradable and fragrance-free nappy sacks which are made from a 100% sustainable GM-free corn-based film.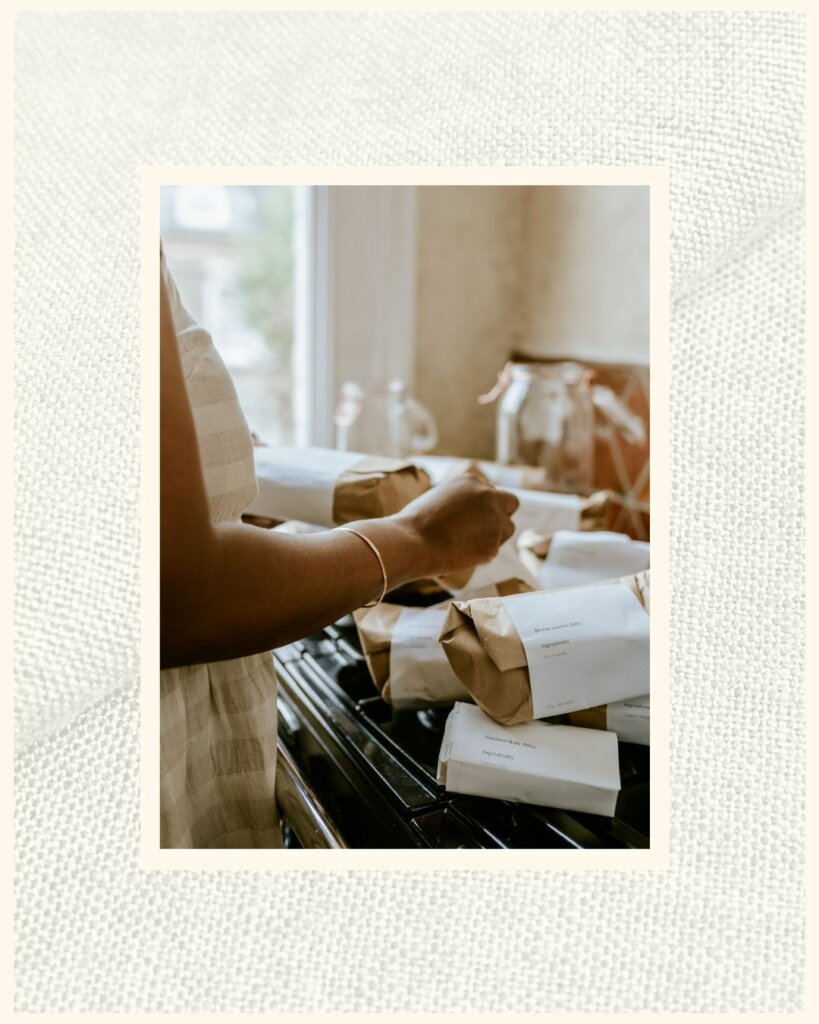 Percarbonate of Soda is a natural disinfectant and stain remover and replaces all "Oxy" products. The ingredients are derived from raw materials (salt, water, and chalk). It's an excellent natural bleaching agent (oxygen bleach), stain remover (tea, coffee, red wine, fruit stains, blood, etc), softens water, and tremendously increases the efficiency of cleaning products.
Completely free from silicone, plastic, and other petrochemical substances these dummies are purely made from natural rubber. I love that they are easy to clean -something I always struggled with when using dummies using more than one material (those seams are always filled with germs!) -to clean I simply sit them in boiling water for a few minutes.
Be sure to opt for an orthodontic teat -this will help to prevent and minimise the risk of teeth misalignment and future orthodontic issues.
The packaging on the brand that I've linked is 100% Plastic free with an FSC® certified box and corn starch window. And once your dummy has completed its lifecycle with you, it is 100% biodegradable and compostable – and suitable to throw away with the food waste.
When our second child was born, we discovered alternative bottles made from borosilicate glass & natural rubber. At the time, it was still very difficult to get our hands on any in the UK and so despite us doing our research on them and being hooked 4+ years ago, we didn't actually purchase any until our third child was born two years later.
These hand-blown glass bottles are free from toxins, unlike most plastic alternatives. The teats and covers are made from natural rubber (softer than silicone) and are more natural for a baby to transition to or go to and from.
The brand that we've opted for comes with a slow flow teat which is suitable for a newborn and there's the option to purchase a medium flow option also.
Boroscillate glass is extremely hard-wearing and can withstand very high temperatures (it's the same stuff that science lab equipment is made from) -but bear in mind, that glass bottles are only suitable for us when the bottle is held by an adult.
The bottle brushes that we've switched to are not only good for the planet but are beautiful to look at too.
Hand-made in Sri Lanka from coconut coir fibre twisted around a galvanised metal core with a rubberwood handle and string hanging loop. The rubberwood handles are made from rubber trees that have finished yielding latex in Sri Lankan rubber plantations.
From experience, the brushes are lasting with normal use and when worn out the fibres are biodegradable and core and handle can be recycled.
Why make the switch? Plastic brushes can't be recycled and can be releasing micro plastics into our oceans every time we rinse them.
Period pants
Where have these been all my life? Admittedly, even after first hearing about period pants -I was just a little too scared to try them out. There are quite a few other well-known alternatives (moon cups etc), but for me, period pants seemed the most convenient. Now that I've bought a few different brands -I'm hooked.
I'm linking two alternative brands –the first, a favourite Black-owned stockist of mine. This particular pair are developed for those with an intense flow so that you can still feel comfortable and beautiful whilst on your period. The lining is made from four layers of protection that are waterproof, natural, and antibacterial to avoid strong odour.
After using the pants, just wash them! They are quick-drying, waterproof, and breathable and should last an average of 50 washes/2 years depending on how many pants you have in rotation. 1-year using menstrual pants prevents 500 single-use sanitary products from entering landfill.
And because I'm a sucker for earth tones, I couldn't resist adding in this high street option too.
It was thinking about my consumption of disposable breast pads, sanitary towels, and nappies that first prompted me to look for more eco-friendly alternatives. I'm on my fourth breastfeeding journey and have always worked my way through so many pads but with my last two children, I've made the switch to reusable breast pads that can easily be popped in the wash.
This pack of 3 pairs of washable Breast Pads includes 6 white single breast pads and a mesh bag for washing. They are highly absorbent, super slim and the tear-drop design is shaped to the contours of your breasts. Easy to wash and reuse, these comfortable breast pads will prevent leaks while nursing or during milk let-down.
So, those are the 9 postpartum products that are working for me, feel free to add yours in the comments!